sia Miateks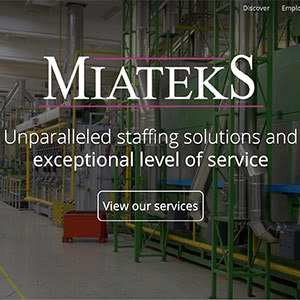 Unparalleled staffing solutions and exceptional level of service
An employment business like no other...

Miateks is pioneering a European take on workforce solutions. Taking advantage of different economic environments and operating under the Posted Workers Directive 96/71/EC , we offer a strategic provision and management of external workforce and seamless recruitment of staff, so that you can concentrate on running your business
We go beyond recruitment, organising transportation, accomodation and providing our posted workers with full support. With a dedicated team and round-the-clock support, we are well positioned to find the right candidate for the right job.
Global Workforce
Miateks delivers quality workforce to multiple industries across the European Union, supporting production, distribution and other services through peak times.
External Administration
With a dedicated team, Miateks takes care of all administration of its personnel throughout recruitment and employment.
Continuous Support
Round-the-clock support for employers and candidates means that any issues are resolved quickly and effectively.
Employee Benefits
We provide our posted workers with an opportunity to work abroad, with constant support and protection by our team
Get in touch!
Отправка личного сообщения владельцу ресурса